As an Amazon Associate I earn from qualifying purchases.
A valuable addition to your bike bag, a bike multi tool is good insurance to have when riding. A well maintained bicycle is relatively trouble free. However, small adjustments are occasionally necessary even on the best maintained bike. And the multi tool is an essential item for emergency repairs. Find out more about choosing and using a multi tool.
Occasional Adjustments With A Bike Multi Tool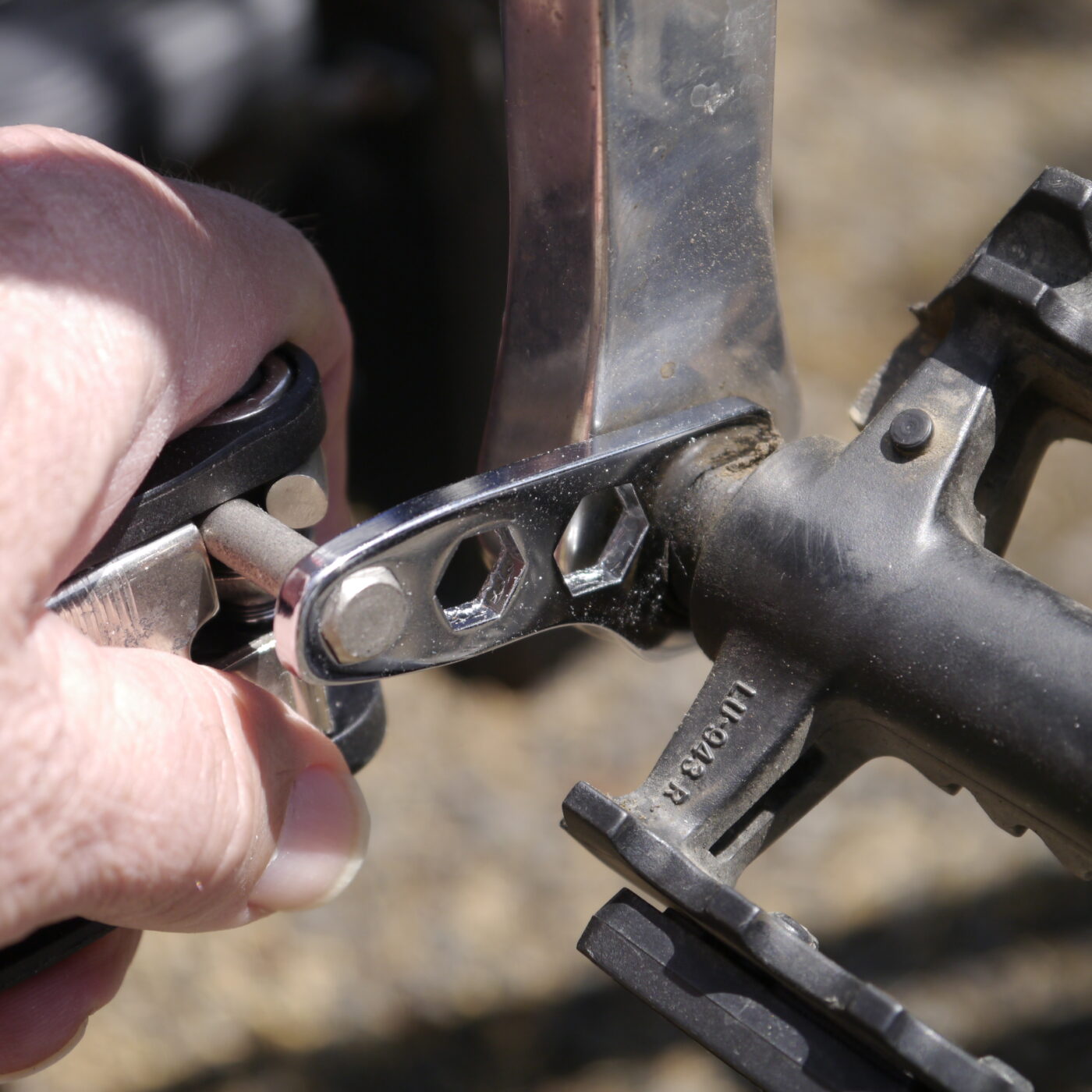 Have you ever been out on a ride on a bike that needed some minor adjustment? Let's say for instance the derailleur needs adjustment to shift properly. Or perhaps the brakes need a little tweaking to make them stop better. If you carry a multi tool you can perform these tasks and ride on worry free.
A more common situation that arises are screws and fasteners that shake loose. With a bike multi tool that fits most of the fasteners on your bike you can tighten these nuts, bolts, etc. before they fall off the bike and get lost.
I've used my multi tool numerous times to tighten nuts and bolts on my bike while out riding. Usually it was something that I didn't realize was loose before leaving home.
I once lost a screw that held a bar end shifter on my bike. The screw worked itself loose while I was riding and fell off somewhere on my route. Since the screw in question was for the rear derailleur I ended up riding to a bike shop with the rear derailleur on the smallest sprocket to get there. I knew the screw was loose. If I'd had a multi tool with me I could've tightened the screw instead of losing it.
The Multi Tool Is Essential For Emergency Repairs
Occasionally the need arises to make an emergency repair on the road. The type of repair that, if not done, can present a real safety issue. I've had this happen before but thankfully this type of situation happens rarely on a properly maintained bicycle.
The most notable emergency repair I've done involved tightening loose handlebars. I was riding down a steep hill and when I put on the brakes at the bottom of the hill the handlebars turned in the stem. Once I got stopped and my heart rate returned to normal again, I tightened the handlebars. Thankfully I had my multi tool with me that time.
Choosing The Right Multi Tool
There are several different styles of multi tool on the market. Some are really just hex wrench sets with maybe a few other tools included. That may or may not be the correct choice for you. What you want is a multi tool with tools that fit the fasteners on your particular bike. Also, you'll want one with enough tools on it to be useful.
I've settled on the Topeak Alien II tool for my own use. It fits nearly every fastener on my bike and comes with a chain break tool, pedal wrench, and other handy tools. It's slightly bigger and more complex than some of the other tools that are available. I believe the extras are worth the extra weight. I carry this multi tool on multiple bikes and it has enough tools included for all the bikes I ride.
Conclusion
You can't carry a whole shop of tools with you in case the need arises. You also don't want to be ten miles from home with no tools at all. A bike multi tool is a compromise between these two extremes. They aren't a replacement for shop tools. But when you're on the road and the need arises to perform some kind of adjustment or repair at least you'll have tools available that can get you back on the road.
Amazon and the Amazon logo are trademarks of Amazon.com, Inc, or its affiliates.